We make personal service our priority. We take the time to listen to your personal needs, and offer the best advice, for just the way you ride. Whether it's helping you buy a new bike, or fix a flat- we're here for you!
It's the defining difference at TWD. The first thing you will notice is our work stations and staff within 10 feet of the entrance. You won't roll your bike to the back of the store, to be worked on by a faceless technician behind a wall. The staff that works on your bike is approachable, someone you can meet. It's the way bike shops used to be, and the way it will stay at TWD.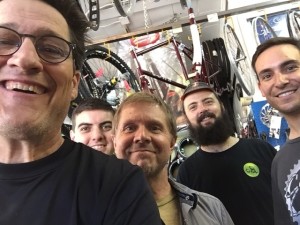 Repair Services
With a combined 75 years of service experience, and our teamwork approach, our crew knows how to make bikes go. We can take care of any repair or service need on any brand of cycle, from simple adjustments to complete restorations.
We work on a first-come, first-served basis, so be aware that during peak season, you may need to leave your bike a day or two.
Typical Service Packages:
Basic Check-up:
Checks wheels, brakes, bearing and drivetrain components. Makes adjustments as needed to help ensure an efficient ride. Only recommended for bikes in good condition. Services beyond what is listed will be done at an additional charge.
Tune-up:
A more detailed service for bikes needing more than a once over. We tune wheels and adjust wheel bearings, headset and bottom bracket, brake system, drivetrain and shifters. We also lubricate brake and drivetrain, as well as tighten any loose nuts and bolts. We also test ride and fine tune for theperfect ride. Services beyond what is listed at an additional charge.
Tune-Up Plus:
Invigorate a well-used ride with detailing, new control cables and refined expert tuning. Includes Tune-up as shown above, complete bike detailing and drivetrain cleaning. Cable systems are removed for replacement or hand lubrication. We recommend this for folks wishing to squeeze optimum performance out of a ride, or for bikes in need of a comprehensive tune-up. Services beyond those listed will cost extra.
Overhaul:
The ultimate longevity improving service. Overhaul your bike annually to make it last forever. Includes the Tune-Up Plus focus and bearing overhaul. We remove all components from frame, clean and inspect every part, and reinstall the components with new waterproof lube. We also replace worn or damaged components (parts extra) and adjust all bearing systems. Give you true and clean wheels. Lube and adjust drivetrain and brake system. Then we test ride and make final adjustments.