Don't let a creak in the neck keep you from riding!
We're committed to making sure your bike fits. Whether you buy a new bike from us, or just want to correct a fit problem on a bike you already have, we can help you make sure riding is comfortable and fun.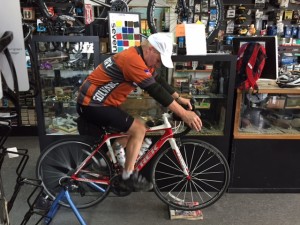 We use proven principles based on the evolution of bike design.
We've been fitting bikes to people for more than 30 years. Our history in the industry has given us the knowledge of trends in bike design, so we can apply our fitting principles from a pragmatic, trusted perspective. Our method developed from what we've learned fitting thousands and thousands of riders.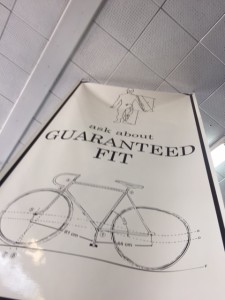 New Bikes sales include Guaranteed Fit!
Our policy–
Our experience in fitting bikes for comfort will ensure you purchase the correct size bike for your riding style, and personal preferences. Once we work with you to determine the best bike match for your needs, we'll recommend a frame size. If necessary, after you use the bike for a "break-in" period, we will gladly custom size the stem and handlebar position to your liking. Anatomically correct saddle upgrades are also available for a minimal cost. Ride the bike for a month to check our work, and if it's not right, we'll work with you to discover the solution.
Made to Measure

If your fit solution is not possible "off the shelf" we will work with our custom frame builders at Seven Cycles and Co-Motion to build you the ultimate made-to-measure ride. Over the years we've helped make riding fun again for hundreds of folks by working with our designers to engineer the perfect fit/equipment blend. A Made to Measure bicycle exponentially increases the riding experience. Here is a great article from Seven Cycles about "women specific" bicycles.
Riding For Life

If pain, balance issues or physical limitations keep you from riding, we can show you alternative machines from several companies including Terra Trike, Catrike, I.C.E., Greenspeed and Rans. Look on our BICYCLES pages for links to their information. We have lots of experience developing unique problem solutions as well. Don't let life keep you from riding!